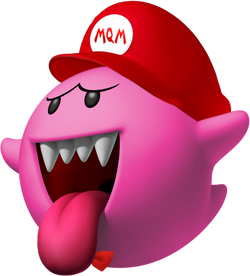 " STARFY PWNS! "
— McQueenMario, Fantendo Blog Comment
McQueenMario (also known as MQM) is a Sysop (and former Administer) on Fantendo and a user on Usertendo. He is partners with COKEMAN11 who was promoted the same time as him. His best friend is RedYoshi and is good friends with YoshiEgg and Arend. He stars in the game, Superstar Fanon Wiki as the main character.
McQueenMario is known as one of the nicest sysops on Fantendo. Many normal users respect him because of this. Some of the other admins thought that he should be strict. However, in a blog post, Cobweb said that they needed nice sysops letting McQueenMario stay his nice self. McQueenMario will still not hesitate to block a Troll who is spamming on Fantendo.
There is more info on McQueenMario here, [1].